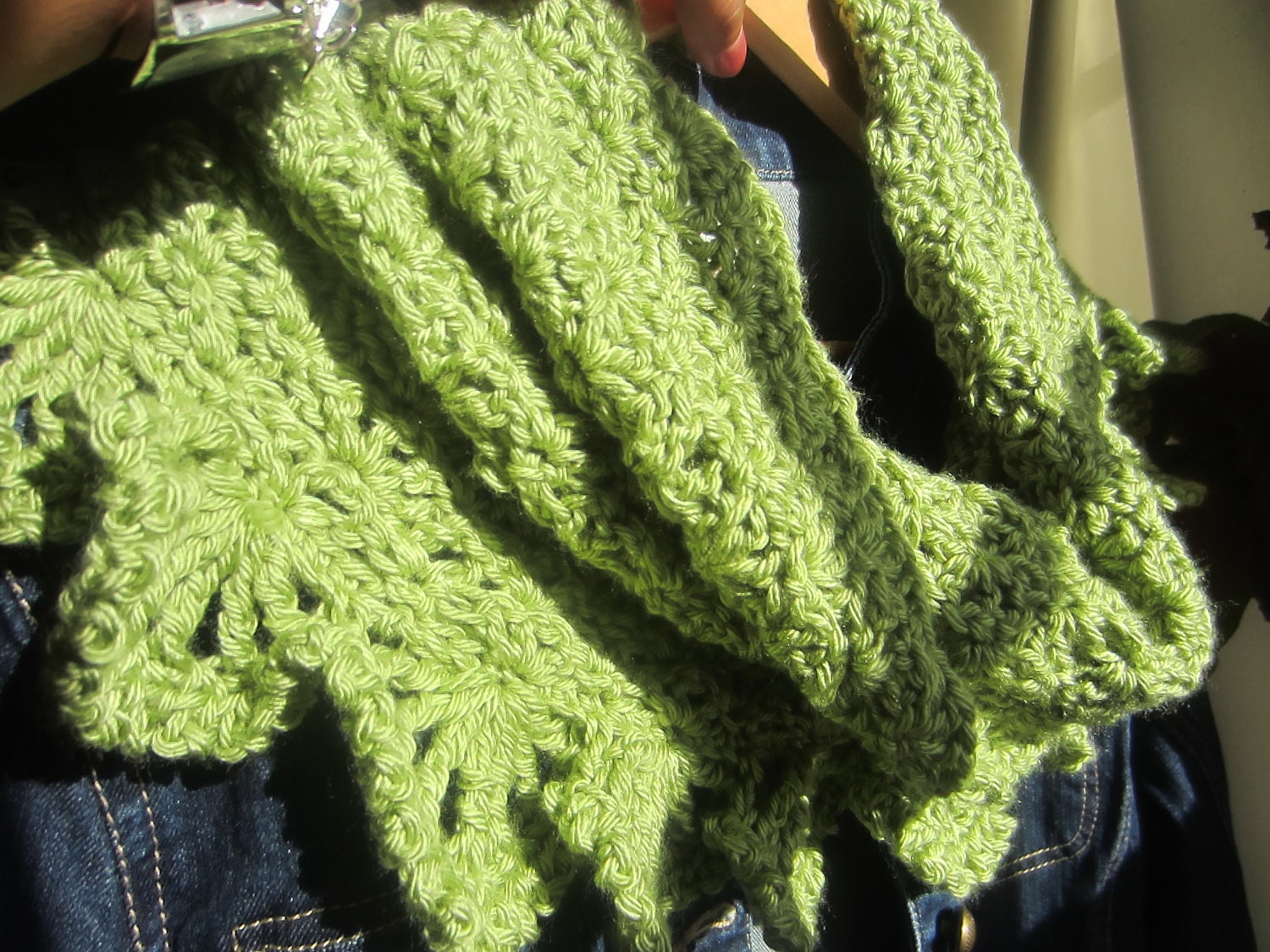 Instantly downloadable PDF pattern available for sale with this link:  Open Shell Crochet Cowl PDF Pattern by GMaEllenCrochetGifts.
Sooo, I just have to brag a little bit.  I opened my email this morning to see that I had just sold a copy of my cowl pattern.  Nice!  I look further to discover that this customer lives in South Africa!  I am so excited to be reminded that a few of my creations are being recreated all over the globe!  (I really should get busy and write down more of my patterns, which seem to be hopelessly stuck in my head.)
Pattern notes:
This is the type of pattern you can adjust to fit any person/body type. 

One size fits most. Gauge is not important.
Pattern difficulty: easy – advanced

Stitches used:
ch: chain stitch
sl st: slip stitch
sc: single crochet
dc: double crochet
dtr: double-triple crochet
This particular piece was made with Caron's Simply Soft yarn.  The color…I can't say for sure, but there are sooo many fabulous colors to choose from.
I must include one more note.  I have forever bucked the idea of 'blocking' my work.  I make things to just be 'done'!  However, I have since learned that some projects need to be blocked.  I began steam-pressing these cowls as they came off my hook.  It brings out the beauty of the lace, and the luster of the yarn.  Much to my delight!  (I guess you can teach an old gramma new tricks!)  Just remember, when you do this, it grows.  Luckily, for a cowl, it's not a bad thing.  I must remember to update the photos on my Etsy page!
Now, for more bragging rights.  I am including here a stellar review on this lovely pattern:
Customer testimonial:

" You know what's so special about this pattern for me? It's superbly versatile. It doesn't care what yarn you use, or what hook you use, as long as you use a hook one or two sizes larger to make the base chain. As long as you chain in multiples of six, it doesn't care of you make a cowl, or wrist warmers, or leave it open and make a scarf, or make a small cowl for a child, or make it to fit your head, then gather it closed, and make an awesome hat. I'm just starting with this pattern, in a tiny practice piece, and I can already see the possibilities. Bravo, Ellen!!!!"

 It is true.  This pattern is so versatile, with some imagination you can create some very lovely pieces.  The cowl pattern is a fairly quick project.  They make perfect gifts, as a few of my close friends will testify!  *wink